一、Product Introduction
Features:
1.Strong abrasion resistance:All flow parts are made from stainless steel lined with UHMW-PE. Abrasion resistance of UHMW-PE material leads the rank of all plastic materials, which four times higher than Pa66's and PTFE's, seven times to ten times higher than cabon steel's and stainless steel's.
2.Strong feature of resistance to shock:The impact strength of UHMW-PE is in the first place of general engneering plastic materials, which is five times higher than ABS, and can keep stable even though in the environment of 196℃ below zero.
3.Superor anti-corrosion:The pump can transfer any kinds of corrosive medium(acid, alkali, salt) and organic solvent under certain temperature and concentration.Because of the stable chemical performance of UHMW-PE, this pump can be used on food industry as well.
Application:
1.Fertilizer industry:slute acid, waste water, sea water, fluorosilicic acid,phosphric acid fluid, etc, transfering
2.Non-ferrous metal smelting industry
3.Chemical industry:all kinds of pure liquids or fluids of sulfuric acid,hydrochloric acid,alkali, oil.
4.Chlor-alkali industry
5.Water treatment industry:pure water, high purity water, waste water, etc.
Performance range:design pressure:1.6Mpa、flow:2-3000m3/h、head:12-125m、power:1.5-750kw
Applicable temperature:-20~90℃, can be up to 180℃ if using new type material.
NOTES: No idling running. Please indicate during ordering if the proportion of medium is largger than 1.3mg/cm3.
二、Structure drawing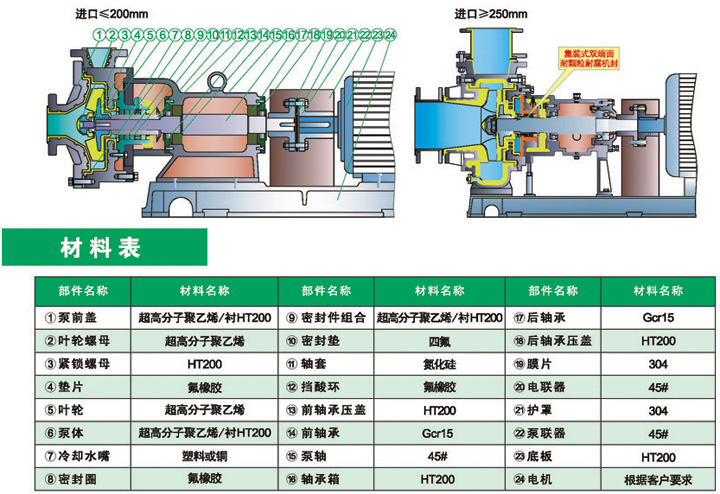 | | | | | | |
| --- | --- | --- | --- | --- | --- |
| Part | Material | Part | Material | Part | Material |
| 1.front pump cover | UHMWPE/lined HT200 | 9.sealing assembly | UHMWPE/lined HT200 | 17.back bearing | Gcr15 |
| 2.impeller nut | UHMWPE | 10.gasket | PTFE | 18.gland of back bearing | HT200 |
| 3.lock nut | HT200 | 11.shaft sleeve | silicon nitride | 19.diaphragm | 304 |
| 4.pad | fluorubber | 12.blocking-acid ring | fluorubber | 20.electric coupling | 45# |
| 5.impeller | UHMWPE | 13.gland of front bearing | HT200 | 21.shield | 304 |
| 6.pump body | UHMWPE/ lined HT200 | 14.front bearing | Gcr15 | 22.pump coupling | 45# |
| 7.cooling water faucet | plastic or copper | 15.pump shaft | 45# | 23.base plate | HT200 |
| 8.gasket | fluorubber | 16.bearing box | HT200 | 24.motor | per client request |
三、Performance Curve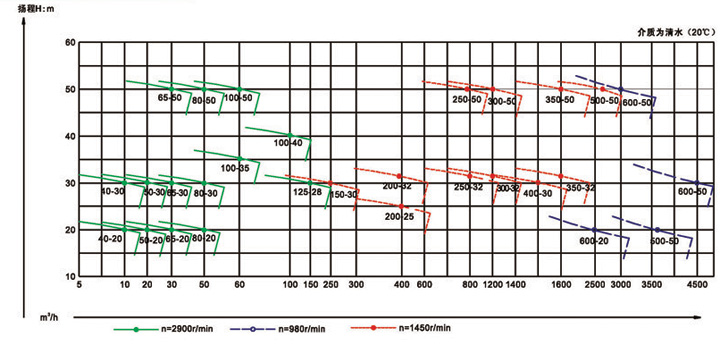 Installation Instruction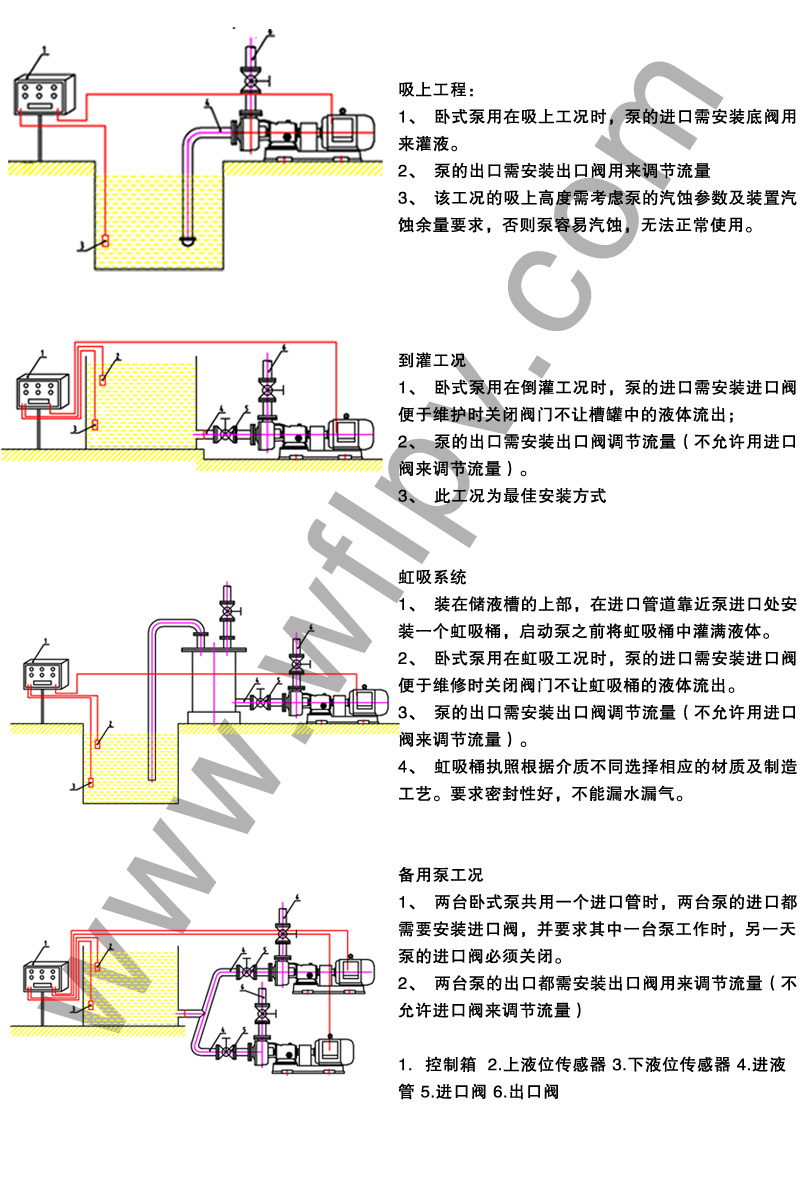 Product Photos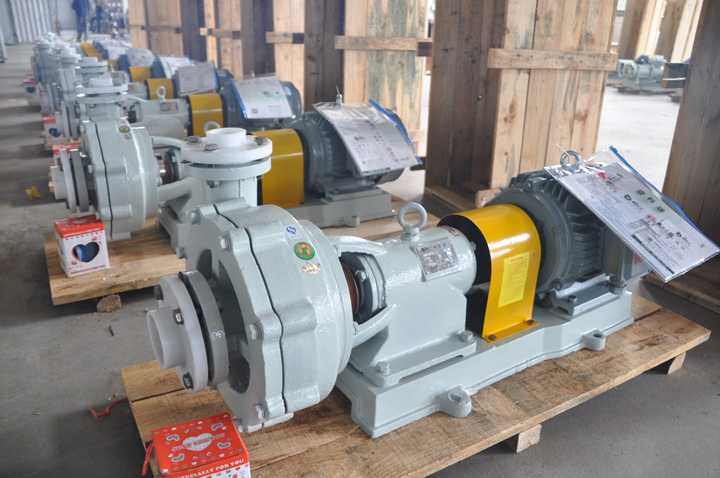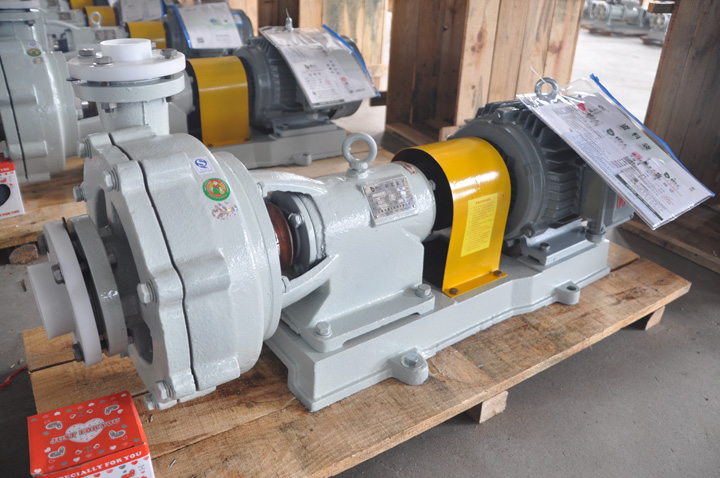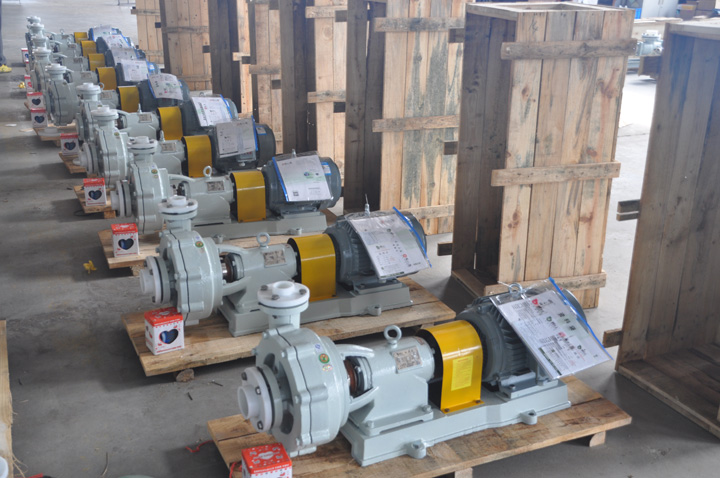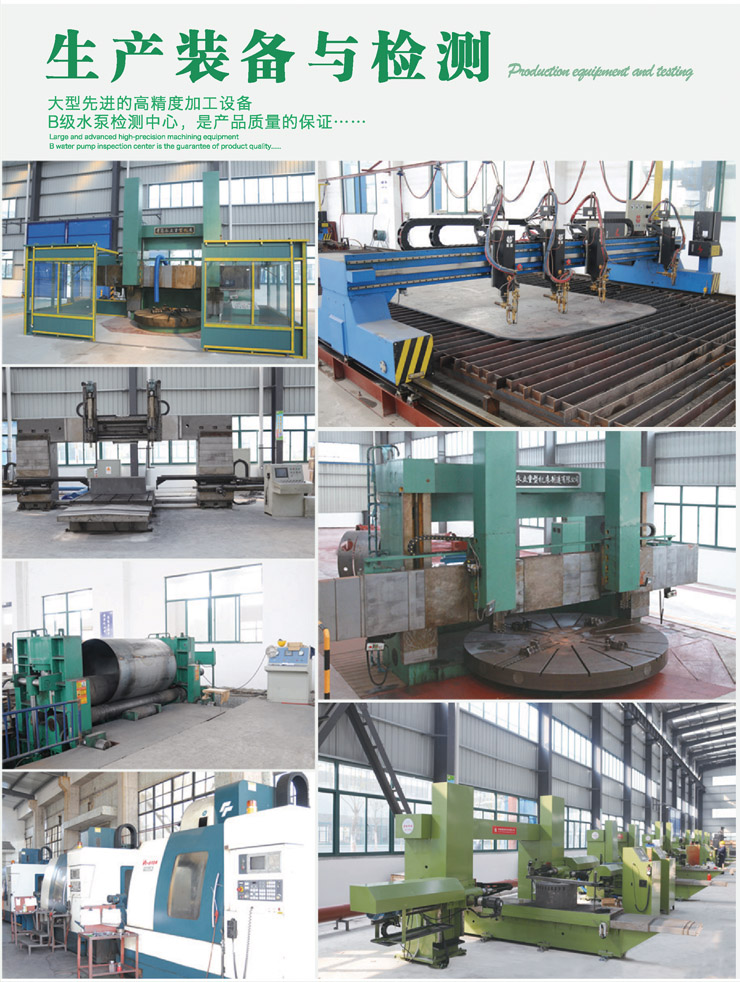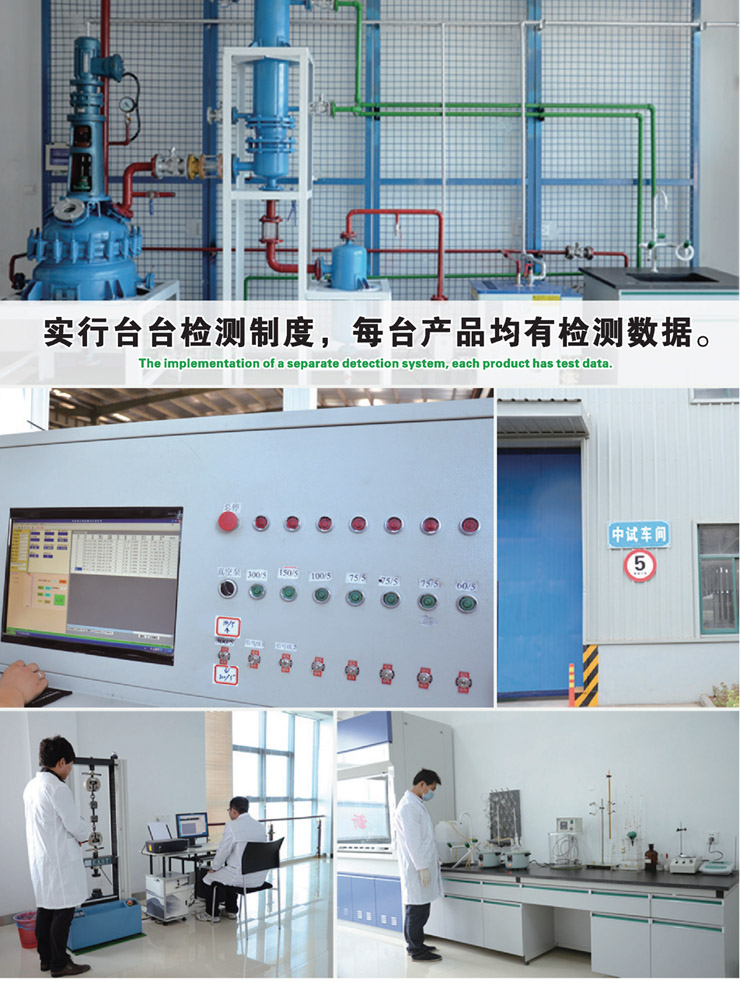 Type
Flow
m3/h
Head
m
Inlet
mm
Outlet
mm
NPSH
m
Speed
r/min
Power
kw
Weight
Kg
TMU-ZK40-20
5
22
40
32
3
2900
3
100
10
20
12
18
TMU-ZK40-30
5
32
40
32
3
2900
4
105
10
30
12
27
TMU-ZK50-20
12
22
50
40
3
2900
4
130
20
20
25
17
TMU-ZK50-30
12
32
50
40
3
2900
5.5
150
20
30
25
28
TMU-ZK65-20
20
13
65
50
3.5
2900
5.5
150
30
20
35
18
TMU-ZK65-30
20
32
65
50
3.5
2900
7.5
150
30
30
35
18
TMU-ZK65-50
20
52
65
50
3.5
2900
15
280
30
50
35
47
TMU-ZK65-80
15
82
65
50
4.5
2900
18.5
450
25
80
35
72
TMU-ZK80-35
30
37
80
65
3.5
2900
15
260
45
35
55
30
TMU-ZK80-20
35
22
80
65
4
2900
11
250
50
20
60
17
TMU-ZK80-30
35
32
80
65
3.5
2900
15
250
50
30
60
25
TMU-ZK80-50
35
52
80
65
4
2900
18.5
280
50
50
55
45
TMU-ZK80-80
35
82
80
65
5
2900
18.5
540
50
80
60
72
TMU-ZK100-35
50
37
100
80
4
2900
18.5
345
60
35
80
30
TMU-ZK100-50
50
52
100
80
4
2900
22
380
60
50
70
45
TMU-ZK100-40
70
45
100
80
4
2900
30
440
100
40
110
35
TMU-ZK125-28
70
32
125
100
5
2900
30
400
140
28
150
22
TMU-ZK150-30
120
34
150
125
4
1450
45
840
250
30
300
26
TMU-ZK200-25
240
28
200
150
5.5
1450
75
1180
400
25
500
20
TMU-ZK200-32
240
39
200
150
5.5
1450
75
1180
400
32
500
26
TMU-ZK250-32
480
35
250
200
7.4
1450
132
1680
800
32
960
28
TMU-ZK250-50
480
53
250
200
7.6
1450
200
 
800
50
960
46
TMU-ZK300-32
760
35
300
250
9.5
1450
200
 
1200
32
1440
28
TMU-ZK300-50
760
53
300
250
9.6
1450
315
 
1200
50
1440
46
TMU-ZK350-32
1100
35
350
350
6.7
1450
250
 
1600
32
1920
27
TMU-ZK350-50
1100
53
350
350
6.7
1450
400
 
1600
50
1920
45
TMU-ZK400-30
1000
35
400
350
6.2
980
280
4000
1500
30
2000
23
TMU-ZK500-20
3000
25
500
500
7.1
735
350
5200
3600
20
3800
18
TMU-ZK500-50
1600
60
500
450
7.1
980
500
5000
2500
50
1825
25
TMU-ZK600-20
2500
27
600
500
6.4
585
315
6500
2400
17
3600
20
TMU-ZK600-30
4000
33
600
500
7.2
735
750
6500
4500
30
5000
26
TMU-ZK600-50
2500
55
600
500
6.4
735
750
6500
3000
50
3700
40