Single barrel and single pump automatic dosing device
产品概述
在给水、排水处理过程中,常常投加各类化学药剂作为阻垢、杀菌灭藻、混凝、絮凝用,以达到浄化水的目的。这些药剂有固体颗粒、液体,在投加过程中必须溶解、稀释及按配比定量投加方能取得最佳效果,所以加药装置是一种集投药、搅拌、输送液体、自动控制于一体的成套设备。一般用于需要投加缓蚀剂、阻垢剂、杀菌剂的循环水系统,进行水质处理药剂的准确投加与计量。广泛应用于空调循环冷却水、中水回用系统、废水系统、钢铁、石化、火电、造纸、微电子、医药等行业的工艺循环冷却水系统。
工作原理
加药装置主要由溶液箱、搅拌器、计量泵、液位计、电控柜、管路、阀门、Y型过滤器等组成。加药装置根据所需药剂浓度,在搅拌箱内配置,经搅拌器搅拌均匀后投入溶液箱、用计量泵向投药点或指定系统中输送所配制的溶液。可根据用户不同工艺流程的要求,进行有针对性的设计、配置必要的部件,实现自动远程控制等功能。
产品特点
1)注射阀尺寸G3/8"和G1/2"。
2)管路连接尺寸DN25。
3)客户可以选用电导率在线控制仪、PH值在线监测仪、腐蚀实时在线监测仪、电磁排污阀、脉冲流量仪等。
产品特点
1)自动化程度高,加药均匀准确。通过微电脑加药控制器(计量泵控制加药量,除了定期向溶药桶内投加药剂外,无须任何人工操作,节约了大量人力,加药量更准确。
2)使用寿命长。与药液接触部分全部采用PE工程塑料,耐强酸、强碱,耐老化。
3)用户根据需求可选配:搅拌器、PLC、温度计、PH仪、在线腐蚀率检测仪和电导率在线监测仪等。
Product overview
In the process of water supply and drainage treatment, all kinds of chemicals are often added as scale inhibitor, bactericide and algaecide, coagulation and flocculation to achieve the purpose of water purification. There are solid particles and liquid in these reagents. The best effect can be achieved only by dissolving, diluting and dosing according to the proportion. Therefore, the dosing device is a complete set of equipment integrating dosing, mixing, conveying liquid and automatic control. Generally, it is used in the circulating water system which needs to add corrosion inhibitor, scale inhibitor and bactericide to accurately add and measure the water quality treatment agent. It is widely used in air conditioning circulating cooling water, reclaimed water recycling system, wastewater system, steel, petrochemical, thermal power, paper, microelectronics, pharmaceutical and other industries.
Working principle
The dosing device is mainly composed of solution tank, agitator, metering pump, liquid level meter, electric control cabinet, pipeline, valve, Y-type filter, etc. The dosing device is configured in the mixing tank according to the required concentration of the agent. After being evenly stirred by the mixer, it is put into the solution tank, and the prepared solution is delivered to the dosing point or the designated system by the metering pump. According to the requirements of different technological processes of users, it can carry out targeted design, configure necessary components, and realize automatic remote control and other functions.
Features
1) Injection valve size: G3 / 8 "and G1 / 2"
2) Pipe connection size: DN25
3) Customers can choose on-line conductivity controller, on-line pH monitor, real-time on-line corrosion monitor, electromagnetic sewage valve, pulse flow meter, etc.
Product description
1) High degree of automation, uniform and accurate dosing. Through the microcomputer dosing controller (metering pump to control the dosing amount, in addition to the regular addition of medicines into the dissolution barrel, without any manual operation, saving a lot of manpower, the dosing amount is more accurate.
2) Long service life. All parts in contact with the liquid are made of PE engineering plastic, which is resistant to strong acids and alkalis and resistant to aging.
3) Users can choose according to their needs: stirrer, PLC, thermometer, pH meter, online corrosion rate detector and conductivity online monitor.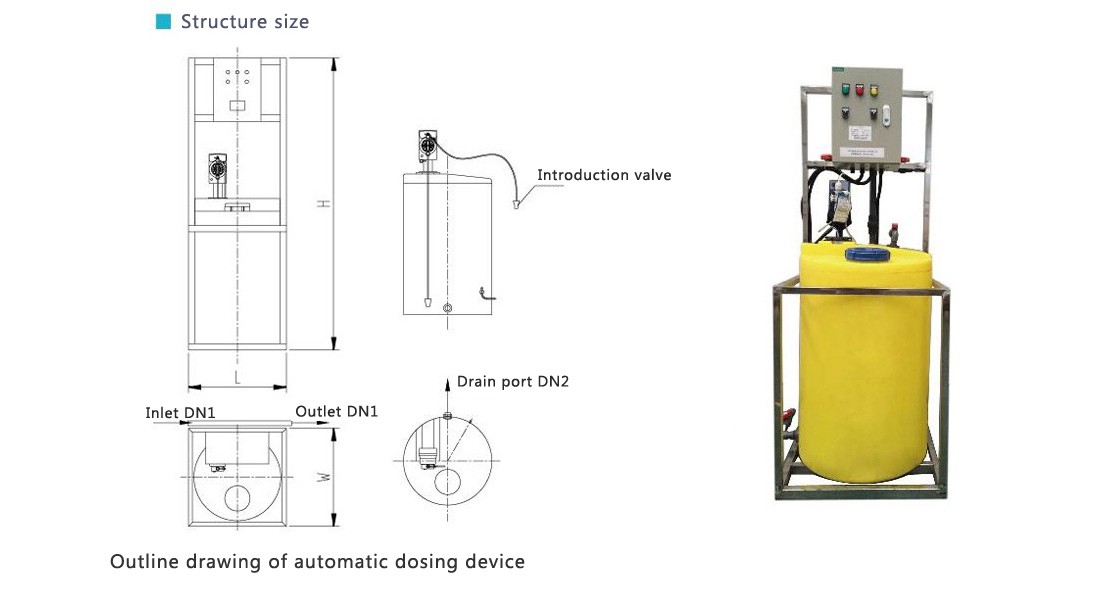 Double barrel and double pump automatic dosing device